Zarafshan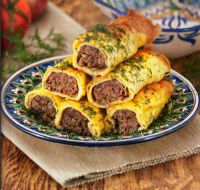 Meat rolls List of ingredients:
lamb or beef (meat) - 400
Onions - 1 pc.
black pepper (ground) - to taste.
Eggs - 7 pcs.
Zira - 1 tsp.
vegetable oil - 2 tbsp.
butter - 1 tbsp.
dill - 1 bunch.
Salt - to taste.

Recipe for:
Double-pass the meat through a meat grinder. Add minced very finely chopped onion, salt, pepper, and cumin, well stop.
Lightly beaten eggs, salt the. In a frying pan heat half the vegetable oil, egg bake thin pancakes, cool.
For each pancake put stuffing and roll rolls. Heat oven to 180 o C and grease a baking remaining oil, put on his rolls and bake in the oven techenie35-40 minutes.
When serving sprinkle rolls with butter and sprinkle with chopped dill.
---
Kabob
Grilled minced
List of ingredients:
beef (boiled) - 600 gr.
Onions - 3 pcs.
Garlic - 1 clove.
Wheat flour - 2 tbsp.
fat beef - 2 tablespoons.
pomegranate seeds - 5 st.lozhek.
Salt - to taste.

Recipe for:
Boiled meat, onion and garlic ochishenny mince, salt, pepper, mix well and put into the refrigerator for 2-3 hours. Then, from the cooked meat to form a flat sausages and roll them in flour. In a pan heat oil and fry the beef sausage on high heat on all sides for 4-5 minutes, then reduce the heat and cook for 10-12 minutes. When serving put on the kabob platter and garnish with pomegranate seeds.

by the way:
Of course kabob cooked on charcoal (tandoor, cauldron). Be sure to remember this recipe when you come to the barbecue. Cook the sausages of minced meat at home and fry them on the grill, strung on skewers - then you will certainly pochevstvuete unique taste and aroma. According to this kabob recipes you can cook at home, at any time.