Электронный on-line словарь компьютерных терминов
Данный словарь представляет собой on-line версию словаря "Вожаномаи компютер" и содержит 5300 терминов. Здесь вы можете перевести любой компьютерный термин с английского, русского и таджикского языка на любой из этих языков. Введите слово на любом из вышеперечисленных языков и нажмите кнопку "Перевести".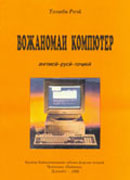 The first "leptop" computer became IBM 5100 (IBM Portable Computer), equipped the display which has been built-in by the store on an magnetic tape and 16 Kb of operative memory, weight 23 kg. The Year of the creation 1975.